OPERA SARATOGA WORK SAMPLES
This page has been created to provide representative work samples for the Kurt Weill Foundation.
WORK SAMPLE 1:
Our first work sample is footage from Opera Saratoga's production of IL POSTINO (Catán), presented by Opera Saratoga in July 2016. This production was directed by Lawrence Edelson (who will direct and choreograph THE CRADLE WILL ROCK), and conducted by James Lowe.
This excerpt includes principal guest artists alongside members of Opera Saratoga's chorus (members of the company's Young Artist Program) in the final scene of the opera, with the Opera Saratoga orchestra. In this scene, Pablo Neruda and his wife Matilde return to an Italian fishing village, where they had previously been in exile, to visit Mario (the postman of the title) and Beatrice. Beatrice meets the couple, and informs them that Mario was killed in a Communist demonstration before their son was born. She then gives Pablo a letter that Mario had left for him. The opera closes in moving aria that becomes a duet, as Mario tells Pablo through his letter how he inspired him and changed his life for the better.
WORK SAMPLE 2:
Our second work sample if footage from the world premiere production of THE LONG WALK (Beck/Fleischmann), presented by Opera Saratoga in July 2015. This production was directed by David Schweizer and conducted by Steven Osgood. This sample provides an example of two contrasting quartets from the opera in very different musical styles, and provides another example of the company's work in contemporary American opera. (This sample also features Justin Hopkins, who will be featured in Opera Saratoga's production of THE CRADLE WILL ROCK.)
THE LONG WALK is a deeply personal exploration of a soldier's return from Iraq where he served as an officer in an Explosive Ordnance Disposal unit and his battle with what he calls "the Crazy" as he tries to reintegrate into his family life upon returning from the war. In the opera, Brian - the main character - has many flashbacks once he has returned from combat.
The entire opera, including both of these flashback/quartets take place in and around Brian's home in Buffalo, New York as his memories invade his home life. The first quartet takes place in the first act of the opera, in which Brian is remembering his training before deployment. The second quartet is a fond recollection of being in a Humvee with his "brothers" – a celebration of the brotherhood he had with the men with whom he served.
WORK SAMPLE 3:
The following photos are examples of scenic designer Martin T. Lopez's previous collaborations with Lawrence Edelson at opera companies across the country. (Please hover over photos for production detail and company credit).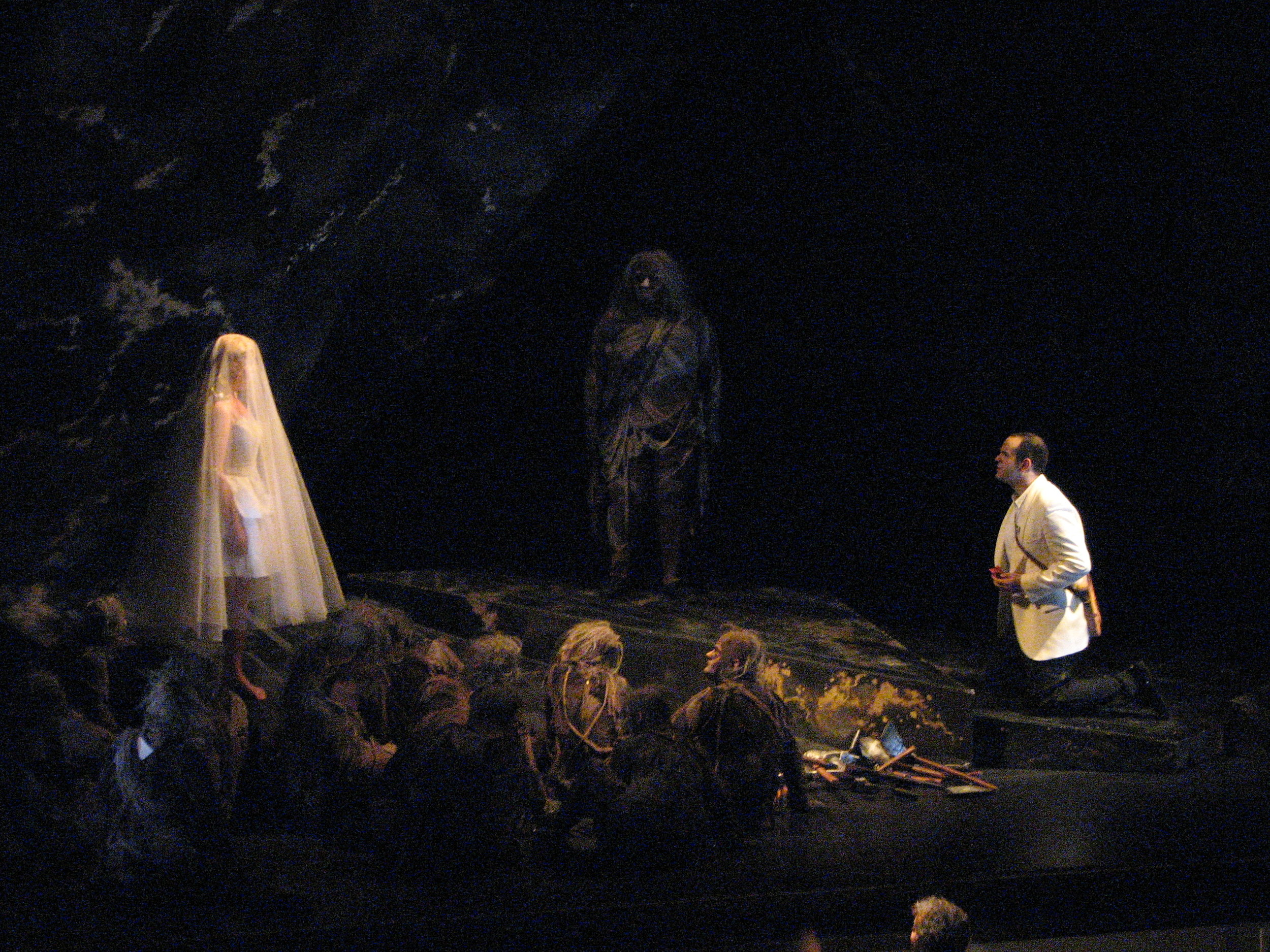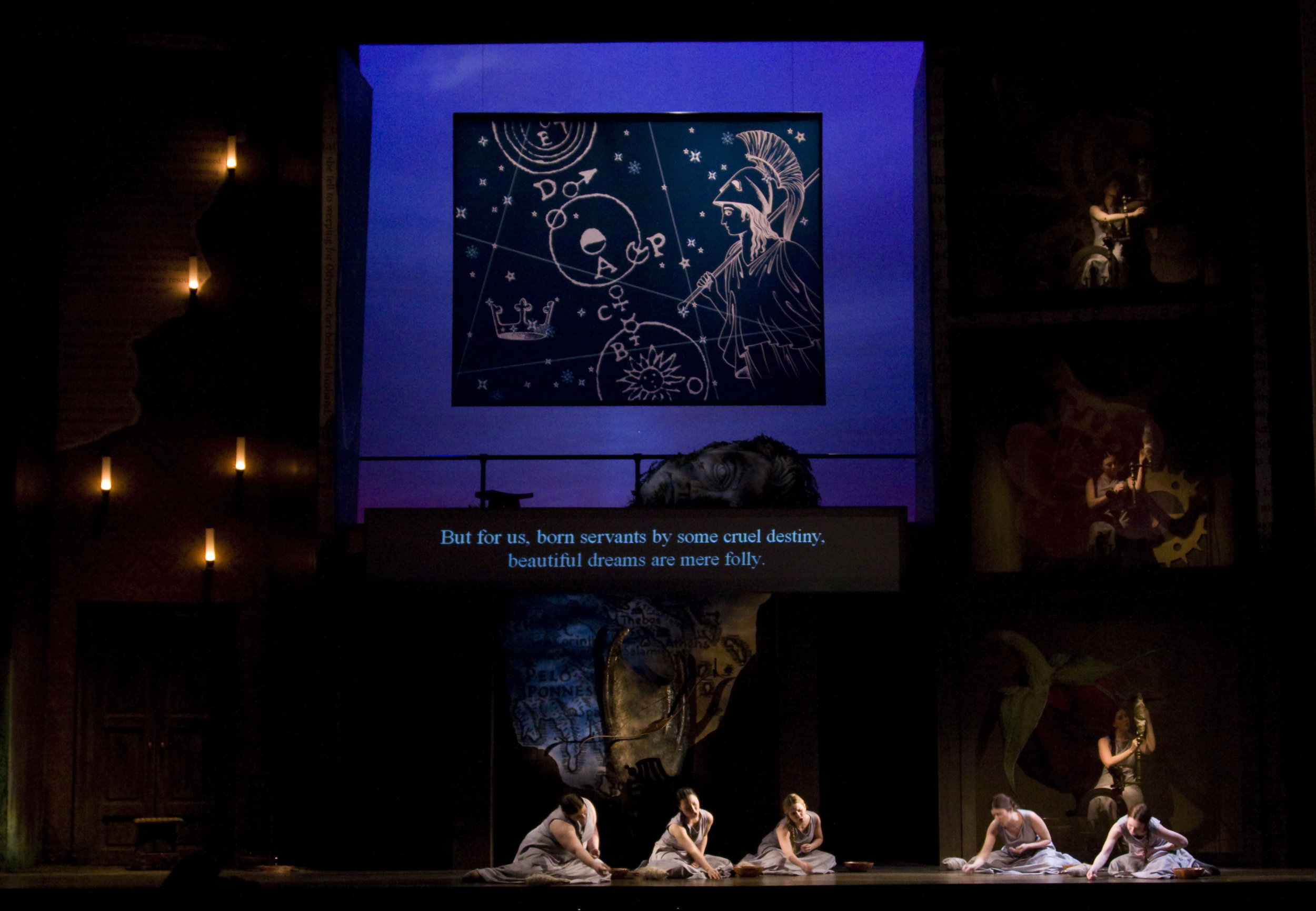 WORK SAMPLE 4:
The following photos are examples of costume designer Anya Klepikov's previous collaboration with Lawrence Edelson at Fort Worth Opera on Hydrogen Jukebox (Glass).